Uncategorized
November Coach of the Month: Coach Juan Blanco
---
From Addiction to Excellence: An Interview with Coach Blanco on Weightlifting and Coaching
Interviewer: Welcome, everyone, to this exclusive interview with Coach Blanco, a remarkable figure in the world of weightlifting and coaching. Coach Blanco, thank you for joining us today. Let's dive right into your inspiring journey.
Coach Blanco: It's my pleasure. I'm excited to share my story and insights with your audience.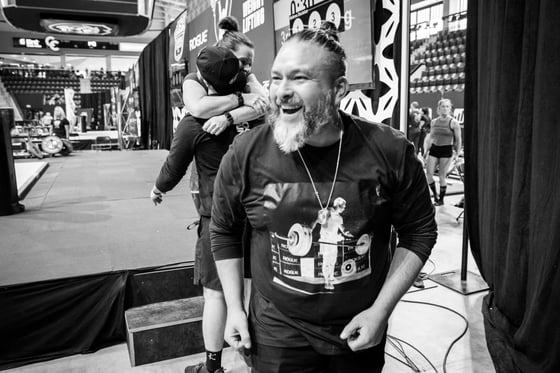 Interviewer: Coach Blanco, can you tell us how you got involved in weightlifting?
Coach Blanco: Certainly. I was introduced to Olympic-style weightlifting in 2009 through CrossFit. It all started as a fitness pursuit, but it quickly became a passion and a way to transform my life.
Interviewer: You mentioned battling addiction for over a decade. What motivated you to become a coach?
Coach Blanco: Living in Brooklyn in 2009 and dealing with my addiction issues, I found sobriety through the discipline of training. It completely transformed my self-perception and showed me what was possible. I firmly believed that if I could change my own life, I wanted to be a part of affecting change in others.
Interviewer: Can you share your greatest coaching success story?
Coach Blanco: Developing athletes into becoming top 10 in the country, National Championship medalists, and Pan American & International World Championships competitors. It's incredibly rewarding to see athletes reach their full potential.
Interviewer: What are the top two most effective VBT (Velocity-Based Training) methods you've used to improve the performance of your weightlifting athletes?
Coach Blanco: Auto-regulation and Velocity Profiling have been instrumental in our training. These methods allow us to fine-tune our approach based on real-time feedback and individual athlete characteristics.
Interviewer: Do you have any advice for fellow coaches?
Coach Blanco: Don't be afraid of being wrong. Learn and understand what VBT does and how others have implemented it. Be humble and reach out to coaches and sport scientists. Remember the words of Dr. Bryan Mann, "the LPT is just a tool, a stopwatch, and a tape measure."
Interviewer: And what advice would you offer to athletes looking to improve their performance?
Coach Blanco: Don't judge your progress solely by the weight on the bar. Velocity and programming are only a small part of the process. Understand that 90% of what supports your performance happens outside the gym – recovery, nutrition, and mindset.
Interviewer: Is there anything else you'd like to share with our audience?
Coach Blanco: I began my journey into Velocity-Based Training to have a more objective measure and reduce subjectivity. But the coaching part is about connecting with your athletes. You must make human connections and learn what motivates them. The person they are must believe in the process and that you have their best interest at heart.
VBT and programming are tools to measure your work and achieve consistent performance improvements over time.
Interviewer: That's valuable advice, Coach Blanco. Finally, how can our audience connect with you or learn more about your work?
Coach Blanco: You can find me on social media with the handle @coachblanco, and my gym's account is @brooklyntraininghall. Feel free to reach out if you have any questions or want to learn more.
Interviewer: Thank you, Coach Blanco, for sharing your inspiring story and insights into weightlifting and coaching. We appreciate your time and wish you continued success in your coaching career.